Porsche Panamera GTS Sport Turismo 2020 review
Опубликованно 24.09.2020 01:50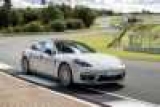 What is it?
A modern big Porsche with a bit more sporting soul. That was always the idea with the upper mid-range, GTS-badged version of the Panamera, which has just been revised as part of a wider facelift for the car. But somehow Porsche has always struggled somewhat with the GTS's particular execution; and that may help explain why a bit more commitment has been applied this time around, in an effort to finally give Panamera buyers who consider themselves genuinely keen drivers a reason to pick it.
Since the introduction of the original Panamera in 2009, most versions have had air suspension, four-wheel drive and an automatic transmission. That being the case, there are some obvious things you might do to bake in a bit of extra driver appeal for a special, extra-flavoursome version; and yet it's interesting to note how few of those things Porsche has yet deployed here. Contrary to what you might expect, the GTS has never had a strictly rear-driven chassis, steel coil suspension or a manual gearbox - although, funnily enough, other, cheaper versions of the Panamera did once have all of those things. What's it like?
There's only part of the story to tell here because, on the launch of the new Panamera at Bilster Berg circuit in Germany, Porsche did as car-makers tend to do with their press demonstrators, providing a GTS with all of those optional active electronic systems fitted, as well as with optional carbon-ceramic brakes (steel discs come as standard). They will tell you also that a GTS rides 10mm lower to the ground on its air springs than a Turbo S in standard trim, but since the car's air suspension system is constantly adjusting ride height depending on speed and selected driving mode anyway (just as a Turbo S's does), there's probably little to materially set the GTS apart there either.
Категория: Авто Советы