Audi SQ7 2020 review
Опубликованно 20.09.2020 10:55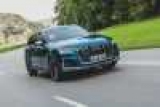 What is it?
The US may be a bit of a shambles at present, but at least when it comes to cars - and specifically the type of fuel that goes into them - Americans are united in their preferences. Petrol,   unleaded,   gasoline:   so long as it isn't diesel, they'll generally be pretty happy.
Audi claims that this is why it has ditched the   mighty oil-burning V8 of its SQ7   in favour of   the twin-turbocharged   4.0-litre petrol V8 that appears in everything from Audi's own RS models   to the Bentley Continental GT   and more in between. What's it like?
On unnaturally smooth German roads, the SQ7 combines all of this to fairly tremendous effect. Rolling refinement and ride comfort on air suspension   and 22in alloy wheels are practically immaculate, with the only notable intrusion being a very slight, very distant shuddering over lumpier surfaces at low speeds. Wind noise at pace is virtually non-existent, as is road roar - although whether this would continue to be the case on coarser British roads remains to be seen.
Nevertheless, there's a tremendously pillowy character to manner in which the SQ7 deals with rolling, flowing road surfaces.   It smothers compressions while assertively remaining in control of its vertical movements, and secondary impacts barely register. It\'s a supremely comfortable car, one that shrinks long distances to such an extent that it feels like it would be capable of making a 10-hour stint at the wheel feel no more taxing than a quick trip down the road.
The cabin is as plush and accommodating as you would   expect that of a large Audi to be. There's masses of adjustment in both the seat and the steering column   and visibility is good. And aside from a few slightly naff carbonfibre inlays on the dashboard and around the tops of the doors, the general look of the cabin   is pretty smart, too,   in the fairly sober, slightly monochrome way that seems to define the bigger, pricier Audis   these days. Should I buy one?
At ?78,190, the SQ7 also makes a pretty strong case for itself as a value proposition - if such a thing can really exist at this end of the market. A V8-engined Porsche Cayenne GTS practically costs ?7000 more,   and while the   BMW X5 M50i is fractionally cheaper, it's not available with a third row of seating.
The nearest BMW SUV with a petrol V8 and seven seats as standard is the   X7 M50i, which will set you back at least ?92,975. And while the ?75,060 Mercedes-AMG GLE 53 does come with seven seats, its six-cylinder mild-hybrid   motor isn't quite as special as the Audi's, and it doesn\'t quite as comfortably   either.
As excessive as a 500bhp, seven-seat SUV undoubtedly is, it's impossible not to be taken by the sheer breadth of the SQ7's talent. On the one hand, it's a phenomenally capable and extremely refined long-distance tourer; on the other, it has the pace, the grip and the control to amuse and entertain when the road ahead gets a bit more interesting. The fact that it can do all of this and still have room to comfortably accommodate a family of seven (or a group of six adults) helps to add a further bit of additional justification to its existence, too.
Just be sure that you can stomach its regained   appetite for fuel. We saw just 15mpg over the course of our test route, which is a wee way off the 24.1mpg average we got from the diesel when we road-tested it back in 2016.
Audi SQ7 TFSI 507 Tiptronic specification
Where Bavaria, Germany   Price ?78,190   On sale Now   Engine V8, 3996cc, twin-turbocharged, petrol   Power 500bhp at 5500rpm Torque 568lb ft at 2000-4100rpm Gearbox 8-spd automatic   Kerb weight 2265kg Top speed 155mph 0-62mph   4.5ec Fuel economy   23.3mpg CO2 276g/km Rivals BMW X7 M50i, Mercedes-AMG GLE 53
Категория: Авто Советы