Vauxhall Corsa-e 2020 long-term review
Опубликованно 18.09.2020 04:55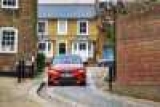 Why we're running it: To get to know Vauxhall's new supermini better, first in petrol and then in electric form
Month 4 -   Month 3 - Month 2 -   Month 1   -   Specs
Life with a Corsa-E: Month 4
We take it to the limit and borrow a Leaf-driving friend's charger - 9 September 2020
The one-way journey was 164 miles, the round trip 328 miles. The Corsa-e's range is 209 miles. I could set off with a full charge and recharge overnight ahead of the return journey. Sounds easy and doable? Yes and yes. Which, in the types of journeys I do and mileages I cover, feels like a bit of a milestone in the world of affordable electric cars.
I've written a few times in the past couple of years about how we need to look beyond the pure range of electric cars, and instead turn it back on the buyer: once you've decided an electric car is for you and you have the means to charge it at home or at work (they remain a non-starter if you can't), how much range do you actually need?
For me, it probably is that 200- mile mark. The 164-mile journey from Berkshire to Norwich with an overnight stay is about as far as I regularly make – or at least made, back in the halcyon days of being allowed in football grounds to watch the action live… That would do about 95% of my year's motoring and I'd take the family Ford Fiesta for the balance rather than dipping into the scattergun public charging network.
That last point was key in my journey in the Corsa-e. A conversation earlier this year with a friend in Norwich whose company car was coming up for renewal led me to tell him about the imminent 0% benefit-in-kind rate for electric cars, and his mainly local mileage working in construction was ideal for an electric car.
Категория: Авто Советы