Volvo XC40 Recharge T5 2020 long-term review
Опубликованно 17.09.2020 13:20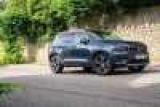 Why we're running it: To discover whether a technology that suits the car industry also suits drivers
Month 1   -   Specs
Life with a Volvo XC40 PHEV: Month 1
Welcoming the XC40 Recharge   to the fleet - 19 August 2020
It may look like any other Volvo XC40, but the car pictured here is actually a glimpse into the future. Well, sort of. It represents both where Volvo is now and where it's aiming to go. It's a snapshot of a company – and an industry – in transition.
The clue lies in its unwieldy name: the Volvo XC40 Recharge Plug-In Hybrid T5 Inscription Pro. Let's break it down. The 'XC40' bit won't need much introduction: it's the model that completed Volvo's range of hugely successful SUVs and the first developed fully since the Swedish firm was bought by Geely.
The XC40 has now been around for a few years, and we've previously run one as a long-termer; the reason we've added another one to our fleet is the 'Plug-In Hybrid' part of the title. The addition of this powertrain, combining a 178bhp three-cylinder 1.5-litre petrol engine with an 80bhp electric motor, to the XC40 range means that Volvo now offers a PHEV version of every model in its line-up.
That leaves 'Recharge', and this is the element that signals where Volvo is going. The new sub-brand will be used for every Volvo with a plug-in hybrid or fully electric powertrain (replacing the Twin Engine badge previously used for PHEV models).
Категория: Авто Советы