Suzuki Ignis 1.2 Dualjet Hybrid 4WD SZ5 2020 UK review
Опубликованно 16.09.2020 06:55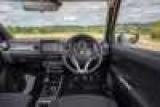 What is it?
Is the Suzuki Ignis a city car or a baby SUV? At just 3700mm long and 1690mm wide, it's significantly smaller than even a supermini, but it offers four-wheel drive and takes the kind of bulldog stance that makes it look fit for flinging mud.
Indeed, Suzuki refers to the Ignis as "the only ultra-compact SUV on the market" and says that it has attempted to emphasise this side of its character through a facelift (which comes three years after it first went on sale),   introducing a new grille and bumpers, plus some more countryside-appropriate colours, including the fetching Tough Khaki adorning our test car. What's it like?
The first thing you notice when driving the 2020 Ignis is the improvement in the ride quality. Suzuki had already upgraded the Ignis's suspension in early 2018, in response to feedback about the harshness for rear passengers, and it has made an improvement once again with the mid-life facelift. The ride still isn't amazing, bumping over broken asphalt, particularly at low speeds, but it's without doubt more comfortable than when the Ignis first arrived.
Refinement is noticably better, too, particularly wind and road noise on the motorway, even if this   still isn\'t a car you would want to use for 70mph work every day.
Some may malign the fact that Suzuki's new engine has, as in the Swift Sport, reduced power in the Ignis, in this case from 89bhp to 82bhp. Not that you really notice it; this was never a fast car anyway, and nor need it be. In fact, the claimed 0-62mph is unchanged, at 12.8sec, and getting up to motorway speed down a slip road never makes you sweat. Having the control of a manual 'box certainly is beneficial in this regard.  
As for the improvement to fuel economy, our test car averaged an impressive 51.8mpg over 850 miles of mostly motorway and B-road driving, with 0.2 litres saved at idle thanks to the BISG. And we know from experience that better is possible; in fact, 65mpg shouldn't be impossible if you drive sympathetically in a front-drive model.
Of course, the Ignis isn't a car for handling, either. Steering it on country lanes feels like you're having a relaxed conversation in which it amiably agrees to do what you're saying, rather than an exchange between a soldier and sergeant major, but what else would you expect from what is essentially a city car?
Should I buy one?
The Ignis is no replacement for Suzuki's sadly departed (in passenger car form) Jimny as a proper off-roader, but it certainly is the only real option for rural dwellers who want a small runabout with four-wheel drive for when the weather turns against them.
The Allgrip is decently priced, too, at ?17,499, that also getting you range-topping SZ5 trim. You won't find a countryside-capable little car for less than that – apart from the Fiat Panda 4x4, but then that now feels very dated.
Lesser, front-wheel-drive mild-hybrid Ignis variants start at ?13,999, which again isn't over-priced, although perhaps then you would instead look around at the likes of the Dacia Duster from the SUV side or very-well-rounded Kia Picanto from   the city car side.
Suzuki Ignis 1.2 Dualjet Hybrid 4WD SZ5? specification
Where   Sussex, UK   Price ?17,499   On sale Now   Engine   4cyls, 1197cc, petrol    Power 82bhp at 6000rpm Torque 79lb ft at 2800lb ft   Gearbox 5spd manual   Kerb weight   940kg Top speed 103mph 0-62mph 12.8sec Fuel economy   51.9mpg CO2   123g/km   Rivals Fiat Panda 4x4,   Kia Picanto X-Line,   Dacia Duster
Категория: Авто Советы